Last Updated on February 18, 2022
If you're looking for the best footmuff for your stroller, then you're in the right place. Just keep reading:) You can also find some general info about letting babies sleep outside.
5 Best Stroller Footmuffs Reviewed in This Guide
In the following table, you can see the five best stroller footmuffs for DadProgree. They are ideal for keeping your baby warm in a cold climate when wearing normal clothes.
Links in the table take you to Amazon for the latest price
Guide to Babies Sleeping Outside
It had never occurred to me that somebody would find babies sleeping outside interesting. Yet, in 2018 The Telegraph wrote that this old-fashioned Scandinavian practice was undergoing a revival in The UK.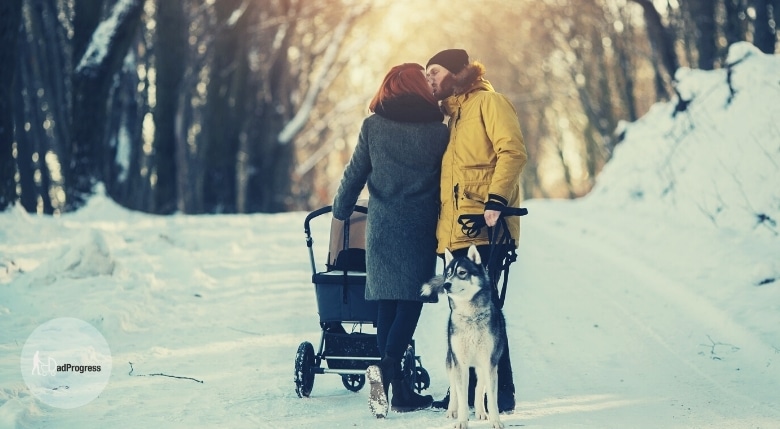 So…not everyone was pushing their little ones out in a pram to sleep?
If you're wondering if the rumors of Scandinavian babies sleeping outside even during winter are true, then the answer is yes. It's considered perfectly normal even with 14 degrees (-10 C).
That said, parents in northern countries follow certain general rules:
Dress your child warmly and then put him in a baby bunting bag. If it's not very cold outside, then two layers of clothes may be enough
When the temperature dips below 41 degrees (5 C) then you may want your baby to wear gloves. Many footmuffs allow babies easily to push their little hands out. It's safer to keep them protected
Babies in Scandinavia are sleeping in prams or standard strollers with big bassinets. These keep the warmth better than lightweight strollers. If you want to read more about stroller types then check out DadProgress stroller guide
Scandinavian parents tend to use battery powered baby monitors. When I was looking for one, I wondered, why most of the recommended models come with an electric cord. But of course, you don't need a battery operated baby monitor if your little one is always sleeping in her crib
Some baby monitors let you track the temperature in a bassinet. It's a convenient feature if it's cold outside
Is it a Good Idea to let Your Child Sleep Outside?
In the U.S the practice has become so uncommon that in the 90s one Danish woman was imprisoned for it. She was accused of child endangerment.
In many big cities, it may not be the best idea to let your babies sleep alone outside because of crime.
But from the health point of view, the baby was not in danger. It's not harmful to babies to sleep outside even in cold weather.
Personal Experience With Cold Weather:
Why would any dad write (or read) about best footmuffs? Simple, they save you a lot of time when it's cold outside. This topic can also be interesting if you want to learn how to deal with your baby during winter.
I took this photo when our boy refused to sleep, and it was my turn to go out with him. Our baby slept very well in a stroller, and that winter, my wife went to walk with him every day for an hour.
When we visited my parents (who have a big garden), we usually left the stroller outside even when it was around 14 degrees (-10 C). The battery-powered baby monitor helped to ensure that the temperature inside the pram was warm. And our boy slept like an angel in his stroller footmuff:)
This said, in the city, parents don't leave prams outside unless we can see the stroller all the time.
Result of a Study:
Marjo Tourula from Finland has examined how children sleep outdoors in winter. In 2011 she published a study showing that "the best temperature for outdoor sleeping is −5°C."
Baby Winter Clothes
Clothing provides thermal resistance between the child and its environment. So the child's body temperature stays acceptable even if the temperature outside changes. The insulation is provided by garments and by the air trapped between the layers of them.
It means that clothing consisting of many layers protects the best in cold weather!
"Maximum amount of clothes combined with a pram can provide appropriate insulation in an ambient temperature of about −17°C"

Marjo Tourula
Why use a Stroller Footmuff?
1. Warmth & Temperature Control
Footmuffs are great as they provide your child with the warmest outer layer of clothing. They are in essence quite big warm sleeping bags, and you may be able to use one even for up to four years.
It's also easier to control the temperature with a bunting bag. When you visit friends or go to a mall, you can quickly open the zipper if it's too warm. Done.
Some models are specifically designed so you can adjust them to warmer weather. It's possible, for example, to remove the fur trims, or you can open the bottom part for better airflow. This means that a stroller footmuff isn't only for cold climates.
2. Save Money
You may be able to save a lot of money if your child grows fast because otherwise, you would have to buy many snowsuits. That said, last year we had a cold winter, for many days it was -4 degrees (-20 C) outside, so we still had to buy a snowsuit.
3. Save Time
Best baby sleep sack for winter saves you a lot of time because you can take your little one quickly out of it. Handling a snowsuit with sleeves requires a lot of time…and patience…
What to Look for When Searching for the Best Bunting bag?
How Cold Do you Expect it to be Outside?
There are footmuffs for milder temperatures and even for summer. Most parents buy stroller footmuffs for winter though.
Should Your Footmuff be Waterproof?
It very much depends on where and how you use it. Your stroller probably has a rain cover, so you don't have to invest in an insulated footmuff. It may be worth it if you're an avid runner and have purchased a jogging stroller though. You may want to check out my guide on the best jogging strollers.
Consider your Stroller Brand (or don't)
Universal stroller footmuffs fit in most strollers. That said, most stroller manufacturers sell suitable bunting bags for their models. My baby sleeps in a universal footmuff as it was cheaper than the one sold by our stroller maker.
Want to use a Footmuff in a car Seat?
Best footmuffs for cars have holes in them for car seat harnesses. You shouldn't use a footmuff without holes as it's essential that the harness fits properly.
That said, most car seat manufacturers prohibit the use of accessories. The main reason is that they can't guarantee the safety of their product with random objects attached to it. I can't think of a reason why something soft between a car seat and your baby's head would be dangerous if the harness fits.
The only real downside of using a footmuff in a car seat is that it may become uncomfortably warm for your baby to lie on it.
The Position of a Zipper is Important
Footmuffs that have a zipper in the middle are more comfortable to use.
5 Best Footmuffs for DadProgress Reviewed
A stroller foot muff keeps your child warm in cold weather. Here I've reviewed my top picks.
If you're looking for a good footmuff for your little ones, check out the weather-resistant model by Funlife. It has a central zipper for easy access and features a cozy interior for your little one. It's one of the best stroller footmuffs because of its anti-slip features and universal design. There are nine slots for stroller straps, so this footmuff fits different stroller models.
PROS:
The reflective strip is an essential safety feature as it makes you more visible in the dark
It's got an extra winter layer for warmth. The outer shell is made of windproof and water-resistant fabric
The back panel has elastic bands which let you effortlessly attach this footmuff to the stroller
Many stroller footmuffs are very slippery, but the back panel of this one is covered with anti-slip material
You can unzip the bottom for dirty shoes. It's a great feature as it saves you some time- you don't have to take off the boots of your toddler after every playing session. Additionally, you can control the temperature with this feature
You can machine wash it
You can use this footmuff as a blanket if you completely open it
There are ten different designs available at the moment of writing
If you are searching for a footmuff with a hood, this Flunlife model is for you. It's possible to transform the top part into a hood by pulling a string
CONS:
The bottom is not extendable so it doesn't grow with your child. You can choose between three different sizes though
If you're looking for an ideal stroller bunting for your infant, then this warm and cozy Bundle Me is one of the best options. The manufacturer states that the Original Bundle Me works like a snowsuit. So it's perfect for cold days and should be reasonably wind resistant. And if you're looking for a truly weather-resistant option then they also have a JJ Cole Urban Bundle Me. It features a water-resistant nylon outer shell.
PROS:
The Bundle Me bunting bag is easy to use with car seats as it adapts with all harness systems. The back is removable, so you can use the stroller harness or car seat straps as intended. You can, of course, also use this footmuff in prams and strollers
You can choose between two sizes and at least four different colors
Bundle Me Original is machine washable
It features a removable top end for better temperature control. This said, there are two zippers for that and so it's not exactly effortless to operate with
CONS:
If your toddler is sitting in it, then you may notice that the straps don't attach this footmuff properly to some strollers. As a result, it slips
The outer layer is made of Thermaplush. It's not water-resistant, so it's ideal for cold winter months but not for rainy days
Orzbow waterproof stroller footmuff is an excellent choice for parents looking for something for hiking or running. Thanks to cotton filler, it keeps your baby warm even in cold winter wetter. Additionally, this warm bunting bag is effortless to use and easy to clean.
PROS:
This stroller features a reflective strip for safety as car drivers can see you better in the dark
Sunday footmuff has a waterproof exterior, and parents have used it even in the rain
There are many anti-slip features. The back of this bunting bag is made of anti-slip material. Additionally, there are two straps that you can use to secure it to your stroller
It's a great footmuff as all the materials are Oeko Tex certified (Standard 100). Orzbow is one of the few companies that has gone through the trouble to prove that the used materials are environmentally safe and easier on children's skin
You can choose between seven different colors
The zipper is in the middle, so it's easy to use
You can open the bottom part to control the temperature or keep dirty shoes outside
This footmuff is machine waschable
Orzbow footmuff also has a pull-tie hood
CONS:
This footmuff doesn't grow with your child. You can choose between infant size and toddler size, but most parents buy the bigger one, which allows them to use it for a couple of years. This said the larger size is around 40 x 22 inches so it's ideal for bigger kids
If you're searching for a sleek winter footmuff, then 7 AM Enfant Blanket 212 Evolution is for you. You can choose between many different designs that all have a bit different features. This Tundra stroller footmuff, for example, has faux fur trims and soft plush lining for extra warmth. Additionally, you don't have to decide between infant and toddler sizes as the bottom is extendable.
PROS:
7 AM Enfant Blanket Tundra is a perfect footmuff for cold weather (up to -20/-4F). It also has a water-repellent outer shell
The Enfant Blanket bunting bag is easy to use with car seats as it adapts with all harness systems. The anti-slip back panel is removable, so you can use the straps as intended. You can, of course, also use this footmuff in prams and strollers
This stroller footmuff grows with your child
It has an adjustable hood
The zipper goes down the middle, so it's easy to use
It's machine washable
You can choose between many different colors and designs, so you probably can find a suitable one for your stroller
CONS:
It's usually more expensive than other options
Yobee universal footmuff has eight harness openings, so you can use it with most strollers even when using a five-point-harness system. It's a warm stroller sleeping bag and big enough even for older toddlers. You can control the temperature with many zippers, and it looks beautiful.
PROS:
You get a warm weatherproof stroller as the outer shell is made of water-resistant polyester or nylon
Like all the best stroller footmuffs, it has an anti-slip back. This means that it stays in place even on the bumpy road
The zipper is in the middle, so you can effortlessly put your baby in or take him out
You can choose between three different colors
This footmuff also has a hood
It's machine washable
The bottom part has a small pocket for some small items
Two zippers in the bottom help you to control the temperature
CONS:
Alternative to the Best Stroller Footmuffs
If you use a stroller travel system, then a car seat cover may be an ideal alternative to stroller footmuffs. You don't have to worry about harness slots as it just covers the seat.
If you're mainly transporting your baby in a car seat, then check out the Skip Hop cover ideal for most car seats. It keeps your baby warm and cozy, and the quality-price ratio is good.
PROS:
This car seat cover is ideal for winter conditions ant
The temperature control is made easy. If it's too warm, you can open the collar and snap it to the outer layer. Additionally, you can effortlessly zip off the front part altogether and roll it to the side
The material is water-resistant and easy to clean. As a bonus, it's machine washable
You can choose between four different colors. Additionally, it features a beautiful cozy fleece lining
CONS:
Although it's a universal cover, it may not fit perfectly on some car seats. For example, parents with Graco car seats have had some issues. This said you can always return the product if the fit is not ideal
If your car seat has a sun cover, then you can't use it with this Skip Hop product
To Sum Up
I hope this guide will help you decide between the best stroller footmuffs. I've reviewed five great baby bunting bags. Funlife Bunting Bag (Check the latest price on Amazon) is the best overall footmuff for me.
If you're searching for a footmuff for a newborn, then the JJ Cole Original Bundle Me Footmuff (Check the latest price on Amazon) is probably the best choice as it's so cozy.
Waterproof footmuffs aren't usually a necessity, but if you want one (for running, for example), there are a couple of good options. The previously mentioned Funlife Bunting Bag is one excellent example. Another great option is the Orzbow Waterproof Stroller Sleeping Sack (Check the latest price on Amazon).
If you're expecting a freezing winter, then the 7 A.M Enfant Blanket Polar Footmuff (Check the latest price on Amazon) may be the best choice. It also grows with your child.
And don't forget that there are some alternatives available. If you mainly use a travel system, then the Skip Hop car seat cover (latest price on Amazon) is a perfect solution for your baby.
Have a fun winter!